Around Here Lately
Pruitt asked me if he might find some peace along this creek. It struck me as odd. All that we have seen & endured in this territory, peace was not among them. I said as much.

-There is a certain stillness at the center of it, he said. - you must feel it, too?

…I could not follow all he said, as his speech had a rambling quality to it, but he talked about the immensity of it, drop by drop down the mountain valleys, then this rush out to sea.

-That is a comfort, isn't it? he said. -Each day, we rise. Wash in cold water. Gather wood for the fire. Eat to stay alive. The next day, do the same again. Maybe it can be simple enough when so reduced.

~Excerpt from To the Bright Edge of the World, by Eowyn Ivey
Maybe it can be simple enough when so reduced.
I have been thinking a lot recently about what defines happiness as my husband nears retirement. I can often find him on weekends at his desk, looking over spreadsheets, calculating how much we will need to live comfortably during our twilight years. He is meticulous in estimating a budget for every aspect of our lives. For this I am grateful; financial planning has never been my strong suit and I know he will cross the t's and dot the i's.
How much will we need to be comfortable and happy? It is a question that, for some, can be difficult to answer. We have friends who look forward to settling somewhere warm, others who dream of traveling for much of the year. And in a world where so many bright and shiny things can capture our attention, it becomes difficult to differentiate between what we want and what we need.
When I think about our transition into what some people call our 'golden' years, my wants and needs are very much aligned.
I picture…
The comfort that comes with sharing my days with my best friend.
The security of a roof over our heads, living in a house that is not too small and not too big, a home that is cozy and welcoming, with sunshine streaming through the windows. A place where family and friends gather to share, to laugh, to make memories.
A community where I can engage with others who share my interests, where I can go to the grocer and run into people I know.
I want to travel, yes, but I don't want to be someone who is away from her home for months at a time. Home is my happy place. I like to tease my husband by saying I want us to buy an Air Stream so we can travel across the country and bring our dogs along with us. I dream of a life spent doing what I love with the people I love.
I imagine my husband and I doing activities together but also pursuing our own individual interests. I see him going off to hike the Appalachian Trail with his brother, while I visit with our daughters. He'll play golf and I will paint, knit, go to the movies with friends, become involved with a local choral group. In the evenings we will share our days with one another over a glass of wine and a dinner that we cooked together.
A rich yet quiet life, lived simply with great joy.
Life has been a little chaotic these past few weeks with the addition of Bo the Mighty Terrier. He and Popeye are slowly becoming acclimated to one another and we are falling into a routine that basically revolves around the goal of getting Bo house trained. Some days are more chaotic than others - and I wonder what I've gotten myself into - but then there are days like today, where both are napping away the afternoon, allowing me time to write this blog.
We FINALLY had a snowstorm this past week, which transformed our yard into a winter wonderland. I love the snow and have missed it dearly this winter. There is just something magical about it. I was out with the pups the evening the storm arrived and felt such a profound sense of peace as the snow fell upon us. The back porch light illuminated the falling flakes against the night sky and I stood there with my face upturned, feeling as if I had stepped into a snow globe.
The day after the storm we received a visit by this fellow. You can imagine my surprise when I saw him lumbering past the kitchen window! He took down the two bird feeders we keep off the back patio and sat down for a leisurely dinner of birdseed. I was so happy that I had my camera nearby! He stayed for about an hour before moseying off again into the woods that are beside our house. Talk about close encounters!
And you? How have you been weathering the winter? Are you looking forward to spring as much as I am?
Sending a little joy your way,
Grace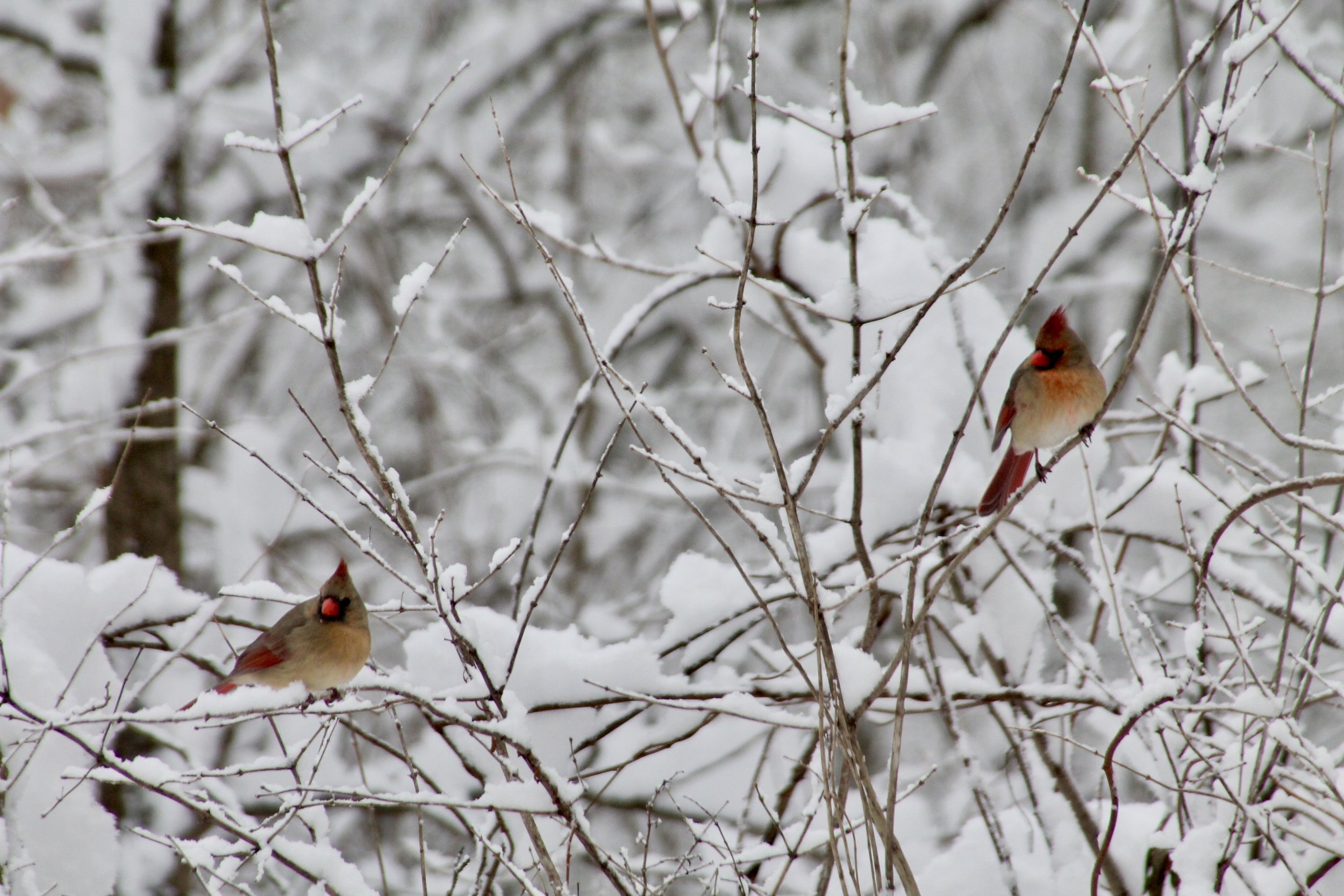 In winter,
all the singing is in
the tops of the trees.
~ Mary Oliver